Weekly Trade Ideas on GBP/USD, NZD/USD, S&P500 and Gold
Weekly trading analysis from expert Nial Fuller.
GBP/USD – sterling/dollar downtrend looks poised to continue
The GBP/USD is in a sustained downtrend and last week saw a small inside bar pattern form, in line with that downtrend. If price breaks down from this pattern, it would likely lead to another leg to the downside. However, more conservative traders may elect to wait for price to retrace higher and watch resistance levels for sell signals to rejoin the downtrend from value / resistance.
Join the iFX EXPO Asia and discover your gateway to the Asian Markets
NZD/USD – kiwi/dollar continues to lose ground
The NZD/USD continued to move lower last week, in line with our recent discussions of looking to sell this pair on any strength. Notice the bearish momentum we have seen in this pair in recent weeks following a failure of price to stay above 0.7370 resistance. Prices could re-test support near 0.6970 in the coming days and traders can continue to look to get short on any strength, targeting support near that level.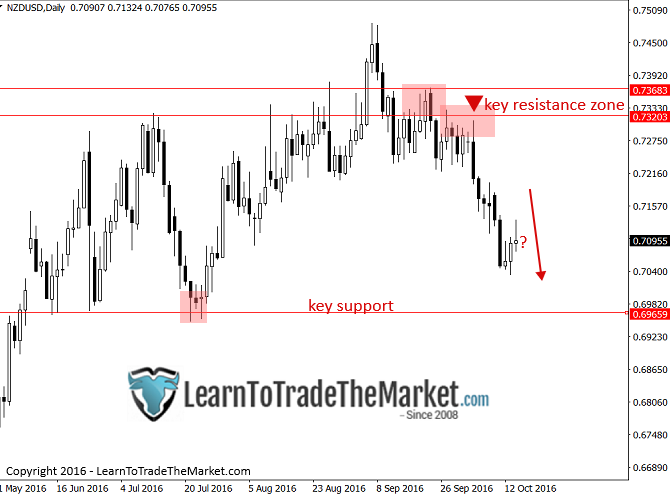 Suggested articles
Ready to kick-off your Trading Game with Manchester United?Go to article >>
S&P500 – S&P500 continues to hold above key support
The S&P500 tested support near 2105.00 late last week, and held above that level. The longer-term trend in this market is up, so we are more bullish biased and prefer to be buyers. The line in the sand for bulls / buyers is that 2105.00 level; above that and we can move higher, below and we can fall into 2065 – 2040 support.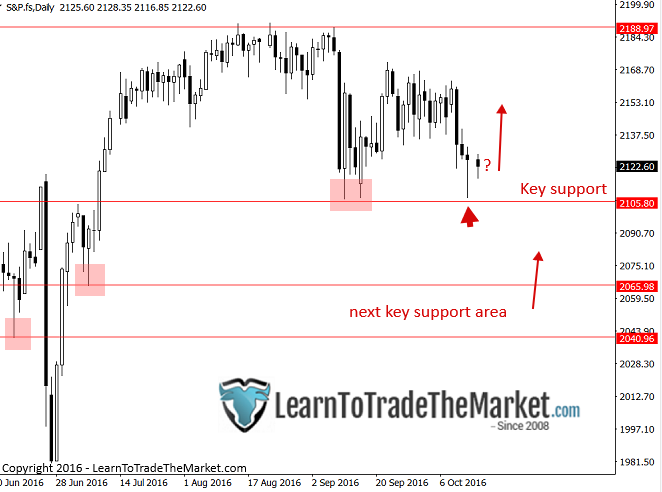 Gold – gold holding at 1250.00 for now

Gold basically just chopped sideways at 1250.00 support last week, following the large sell-off the preceding week. If prices cannot hold above this support, we could see them test 1200.00 in the coming days. If we hold here, we could see a move higher, and if that happens we will watch for selling opportunities up near 1300.00 – 1310.00 resistance.
This article was written by Nial Fuller. Nial is a highly regarded professional trader and author. He is the founder of Learn To Trade The Market, the worlds foremost trading education resource. To learn more, visit www.LearnToTradeTheMarket.com