Trading Opportunities Headed Into US Election This Week
Trading analysis for the forthcoming US-election week from expert Nial Fuller.
GBP/USD – sterling/dollar pushing higher
The GBP/USD rallied aggressively last week, breaking and closing well above 1.2329 resistance on major news out of the UK regarding 'Brexit' requiring a vote in Parliament. We updated our previous bias on the GBP/USD last week, to a neutral to mildly bullish bias. Short-covering has commenced and we could see a vacuum back up to key resistance levels. We see any weakness in the near-term as a potential buying opportunity, ideally on a 1 hour, 4 hour or daily chart price action signal, targeting resistance up near 1.2860.
Join the iFX EXPO Asia and discover your gateway to the Asian Markets
Crude oil – bears stay in control
Crude oil has been very weak in recent weeks, selling off with ease. This market could collapse if Trump wins the U.S. presidential election. This chart is very bearish after failing at 51.60 resistance. Looking to be a seller on strength is the likely play here this week but expect volatility due to elections so be careful and wait for clear price action signals before taking any positions.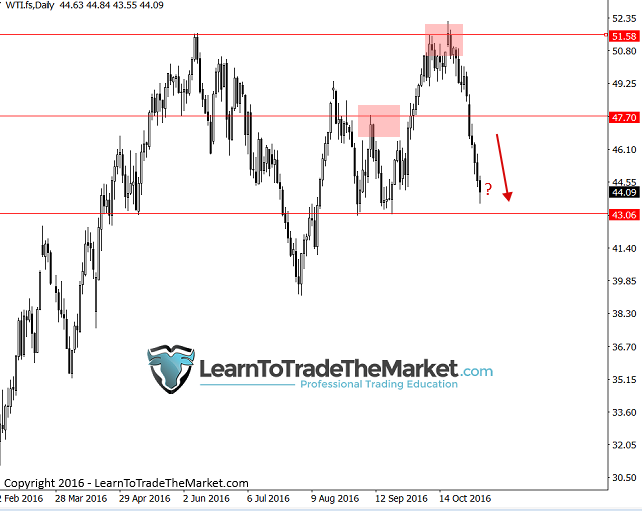 Suggested articles
New Economic Calendar Feature Added to FBS Personal Area and AppsGo to article >>
Gold – spot gold surges higher, enters key resistance zone
Gold has surged higher in recent weeks and is now within a key resistance zone that we have talked about recently, between 1300 – 1310. The best move is to wait and see what develops in the wake of the election results on Tuesday. We could see price fall from here or break higher through this resistance. We will wait for price action to develop and ideally will wait for the election results before committing to one side of this market.
S&P500 – S&P Index trending lower ahead of U.S. election
The S&P500 continued to trend lower last week, breaking and close under 2105.00 key support, which has now flipped to resistance. We see the potential for high volatility this week ahead of the U.S. election and potentially during it. Traders should wait and see what develops after the election results roll in on Tuesday evening U.S. time. For now, we are bearish biased and will be watching for potential selling opportunities on any strength.
This article was written by Nial Fuller. Nial is a highly regarded professional trader and author. He is the founder of Learn To Trade The Market, the worlds foremost trading education resource. To learn more, visit www.LearnToTradeTheMarket.com