Trade Setups For This Week: GBP/USD, Crude Oil, Gold
Trading analysis for this week from expert Nial Fuller.
GBP/USD – Sterling/dollar downtrend rolls on, looking to sell

The GBP/USD continues to grind sideways to lower within the structure of the overall downtrend. As we have been for weeks and months now, we remain bearish (downward biased) on this pair and can watch for 1 hr, 4 hr or daily chart price action sell signals on any strength (rotations higher). Key overhead resistance is up between 1.3375 – 1.3540, whilst prices are contained under that area we are looking to be sellers.
Join the iFX EXPO Asia and discover your gateway to the Asian Markets
Crude Oil – Crude Oil surges higher
Crude Oil recently broke up above resistance near 46.40, easily closing above that level last week. This market is looking like it has found some new strength and we could see it continue higher this week. We can look to be buyers on a pullback to support this week, potentially targeting 51.65 key resistance area or just below.
Suggested articles
Why Ethereum Needs Layer 2 Solutions More Than EverGo to article >>
Gold – Gold approaching key support area
Gold prices continue to remain above 1300.00 key support. However, at this point, we really need to see a price action confirmation signal near 1310.00 – 1300.00 to get long as prices have been lackluster as of late. If prices close under 1300.00 it would open the door for a larger decline. So, 1300.00 is really the line in the sand for bulls right now.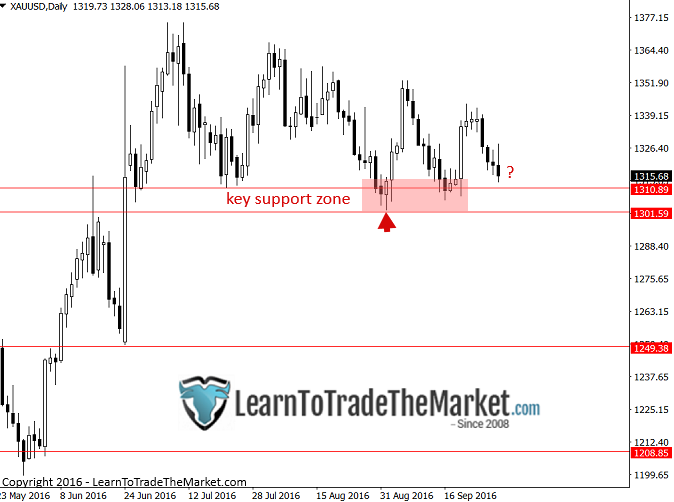 This article was written by Nial Fuller. Nial is a highly regarded professional trader and author. He is the founder of Learn To Trade The Market, the worlds foremost trading education resource. To learn more, visit www.LearnToTradeTheMarket.com