Trade Ideas This Week: AUD/USD, USD/JPY, S&P500, GOLD
Weekly trade analysis by expert Nial Fuller.
AUD/USD – Aussie/dollar bounces higher after briefly testing near-term support

The AUD/USD has basically been range-bound over the last couple of months locked in a range between 0.7655 resistance and support down near 0.7320. Currently, we remain bullish (upward biased) on the AUD/USD above a 0.7320 key support level. The last few weeks have seen a new base form at 0.7420 which is short-term stronghold for buyers. This week, we can use price weakness as an opportunity to buy, with upside potential into 0.7655 and 0.7830. Beware of the upcoming RBA announcement this Tuesday – expect volatility.
Join the iFX EXPO Asia and discover your gateway to the Asian Markets
USD/JPY – Dollar/yen sells off following price action reversals at key resistance

After a strong rally higher recently, the USD/JPY finally ran into a key containment level up near 106.50 over the last two weeks and has fallen significantly lower after reversing there. We see the potential for more downside movement in the USD/JPY this week and traders can look to use any strength as a potential selling opportunity whilst prices are contained under that 106.50 level.
S&P500 –The S&P500 uptrend remains firm

The S&P500 consolidated near recent highs last week following a strong run higher in the preceding weeks as the underlying uptrend continues to push prices higher. Notice the cluster of bullish pin bar signals that formed last week near the highs. Whilst this pin bar cluster looks interesting and it could indeed break higher, prices could still pull back, which would provide us with our ideal entry from value (support). We prefer the more conservative entry and will wait for a short-term correction back towards 2120.00 in the market before getting long (buying). Whilst price remains firmly above 2120 key support level we are bullish and expect strong upside trend to continue.
Suggested articles
New Economic Calendar Feature Added to FBS Personal Area and AppsGo to article >>
Gold – Push higher from key near-term support as uptrend continues
There's a strong uptrend in place in gold as we can see on the daily chart below. We can see support now firmly built at 1311.00 to 1320.00 and that area will be a key near-term zone to look to buy from this week. Traders can look to buy on a pullback to that support region or look to the 1 hour or 4 hour chart for bullish price action signals to confirm intra-day buying opportunities this week.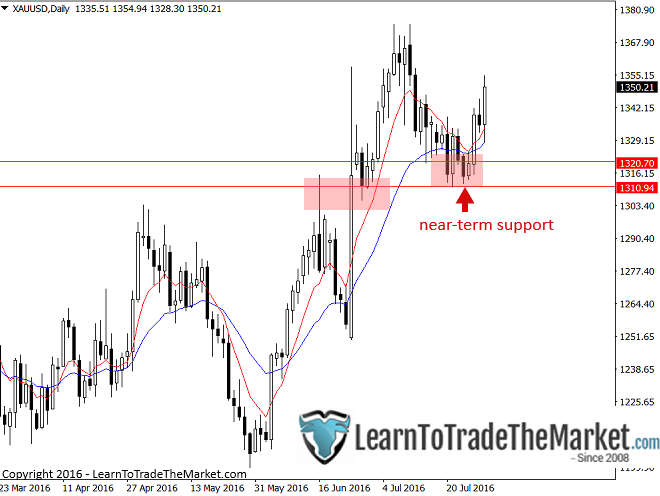 This article was written by Nial Fuller. Nial is a highly regarded professional trader and author. He is the founder of Learn To Trade The Market, the worlds foremost trading education resource. To learn more, visit www.LearnToTradeTheMarket.com