Trade Setups For This Week: USD/JPY, Gold, S&P500 – August 22nd, 2016
There is a buoyant week ahead of us - what instruments should you look out for?
USD/JPY – dollar/yen continues to be contained as long-term downtrend remains
The USD/JPY continues to remain subdued as the long-term downtrend is holding prices down. We have been bearish on this pair for some time now and remain so this week. Traders should watch for moves to the upside (strength) in order to get short whilst prices are under 102.75 this week. If we get that strength, we want to then watch closely for a price action sell signal form as 'confirmation' for short entry into this pair.
Join the iFX EXPO Asia and discover your gateway to the Asian Markets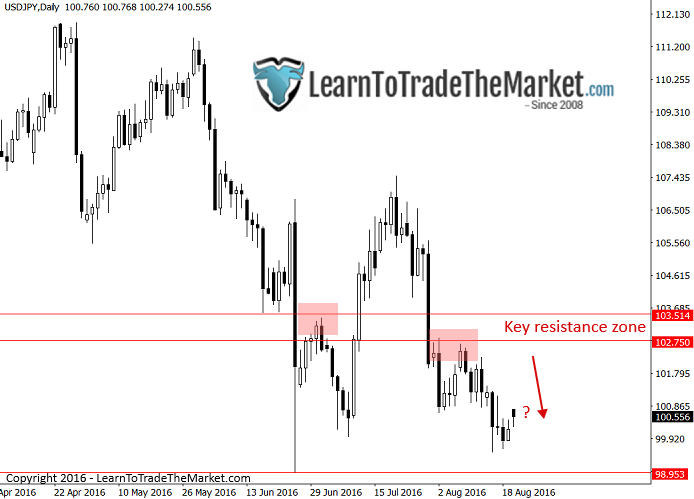 S&P500 – S&P500 long-term uptrend continues
The S&P500 has remained buoyant in recent weeks and is basically just treading water near recent highs whilst in a strong uptrend overall. We want to look to buy this market this week to trade in line with that uptrend.
Take the lead from today's leaders. FM London Summit, 14-15 November, 2016. Register here! 
Suggested articles
The Rising Star of the DeFi Project, GIBXSwap, Passes CertiK Security AuditGo to article >>
We prefer to see a pullback to 2150.00 support before entering but we could also break higher following the bullish pin bars we saw on Friday and Wednesday as the uptrend is quite strong.
Gold – gold continues to consolidate sideways but uptrend intact
Gold is still in an uptrend overall, despite the recent sideways / choppy price action we have seen in this market. Also, as mentioned in our commentary last week on this market, a break above the bearish tail highs that formed recently would be a potential buy signal this week. However, a more conservative approach would be to wait for a pullback down into 1320.00 – 1310.00 key support zone and look for a buy signal there.
This article was written by Nial Fuller. Nial is a highly regarded professional trader and author. He is the founder of Learn To Trade The Market, the worlds foremost trading education resource. To learn more, visit www.LearnToTradeTheMarket.com